Welcome to your new MyBookingRewards Mastercard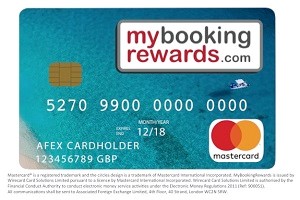 MyBookingRewards is proud to announce the global launch of its own mastercard for all agents. The card will be offered in 3 currencies: £ Sterling for UK agents, € Euro for Europe agents and US$ for all other agents. This means that all agents worldwide can turn their rewards into real spending anywhere in the world without restriction of store or location.
Other redemption options will be phased out by the end of 2017.
T's and C's of MyBookingRewards Mastercard
These T's and C's are to be read in conjunction with and in addition to any user conditions you will receive with the card.
Please note that you need to be at least 18 years old to apply for this card.
How to order your Mastercard
When you request money from your global account, simply click on the 'Mastercard' icon as your choice of withdrawal. When you choose to withdraw via a MasterCard, you will then be prompted to fill out a form to recieve your MasterCard through the post. If the icon is not visible, please allow a few days for the production and launch, and save your money in your global account until such time as you see it.
PLEASE NOTE : YOU CANNOT USE YOUR CARD UNTIL YOU HAVE ACTIVATED IT FIRST
Shipping Address
You will automatically be sent a card to the address on your agent profile and be charged the appropriate fees. Inaccurate addresses or loss of cards due non-delivery / receipt, or loss within a building are the responsibility of the agent and not Mastercard, MyBookingRewards or your reward account and as such will not be refunded or replaced. You will need to cancel the card and request a replacement card.
Cost of Card
Cards are FREE.
You only pay for Postage & Packaging for 1st Class Royal Mail.
£10, €10 or $10 respectively, depending on the currency in which you earn your rewards.
The charge will be automatically deducted from your balance at the time of the request.
Currency
The MyBookingRewards Mastercard card will be offered in 3 currencies: £ Sterling for UK agents, € Euro for Europe and US$ for all other agents. This means that all agents worldwide can turn their rewards into real and totally flexible spending anywhere in the world without restriction of store or location.
Fx Fee 0.8% (fee applies when spend is out of card currency) The exchange rate of the day will apply fx fee, and deducted from the card balance.
Non-Use Charges
Non-use charges only will apply after 12 months of card ownership. This fee ONLY applies when the card has not been loaded or used within a 3 month period and will deduct funds from the card.
If you have zero balanced, you cannot be charged.
Inactivity fee £2 per month.
Pin Change
£0.50
$0.75
How Do I Get My Money from my Global Bank?
From your Dashboard you can request payment from your available balance at any time to any of the available pay-out options.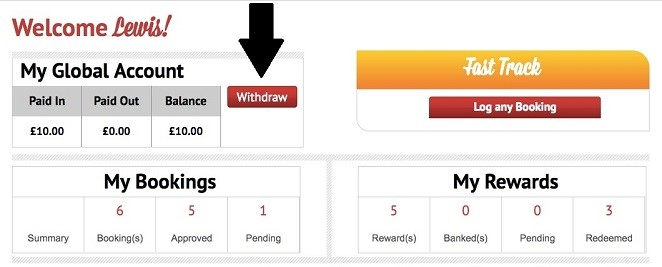 1) From your dashboard click the Red button under the My Global Account section. You will be presented with the form below to complete how much you would like to pay out from your global bank and how you would like to receive it. Please note that pay-out options may change from time to time and may be removed without notice.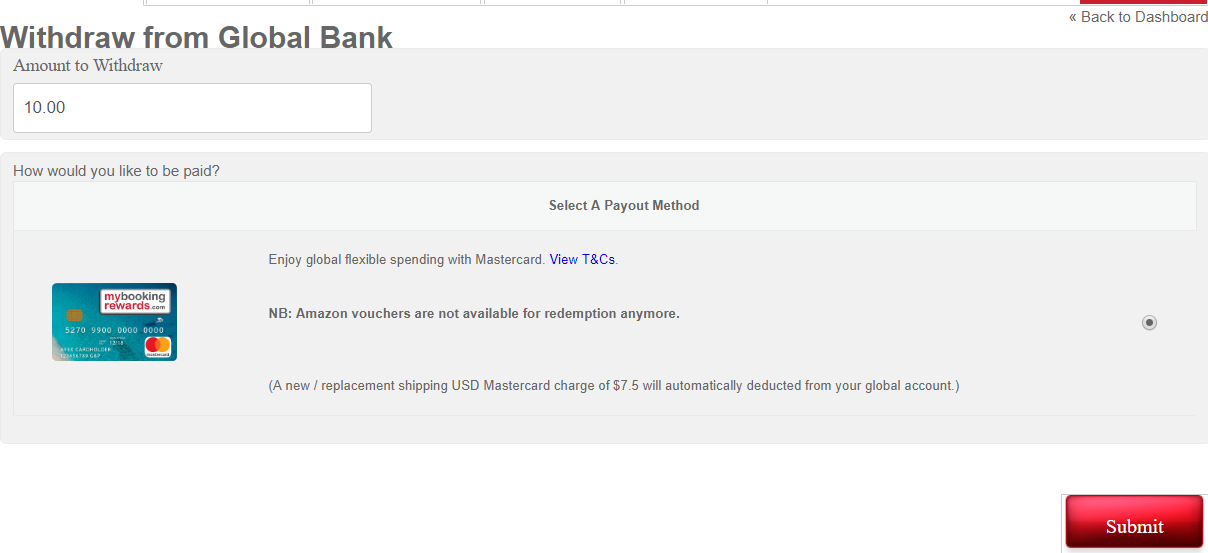 2) Enter the value you wish to withdraw. This can only be from available FUNDS balance.
3) Select how you would like to receive your payment e.g. £10 to my Pre-Paid Mastercard.
4) Click the "Submit" button at the bottom of the page
Your rewards will be sent to you via your chosen method either card top up or via online certificates.
Happy earning and happy spending with MyBookingRewards!
Mastercard® is a registered trademark and the cirles design is a trademark of Mastercard International Incorporated. MyBookingRewards is issued by Wirecard Card Solutions Limited pursuant to a licence by Mastercard International Incorporated. Wirecard Card Solutions Limited is authorised by the Financial Conduct Authority to conduct electronic money service activities under the Electronic Money Regulations 2011 (Ref: 900051).
All communications shall be sent to Associated Foreign Exchange Limited, 4th Floor, 40 Strand, London WC2N 5RW.
To access the MasterCard portal, please Click Here
How to activate your MasterCard card online
To activate your card, please visit MasterCard Portal
You will need to register to create a new username and password.
You will be prompted to enter the 9 digit card number from the front of the card you received.
Please follow the next steps to confirm your email and/or date of birth and create your username and password.
After the registration you will be able to access the Mastercard portal and can activate your card by clicking on the "Activate your card" button.
You can also get your pin number by clicking on the button "Display PIN".
Your card is now activated and ready to receive your well earned rewards!
If you have rewards pending they will now be credited to your newly activated cash card.
If you have any problems or questions activating your card on the Mastercard portal, you can also contact the Card Customer Service (Local call rates apply):
Europe: +44 20 3475 5351
Americas: +1 604 200 0554

Lost or stolen?
You can report your card as lost or stolen on MyBookingRewards.com by doing the following:

Head to your dashboard and click on the "Edit Profile" tab and then click on "Manage Your MasterCards - Report Lost/Stolen/Active"
Then you can see your card details and, on the right, you can see the options you have with your card:
Mark Activated
Report Lost
Report Stolen
Once you have logged in to your profile, you can scroll down the page and you will see your card details like here: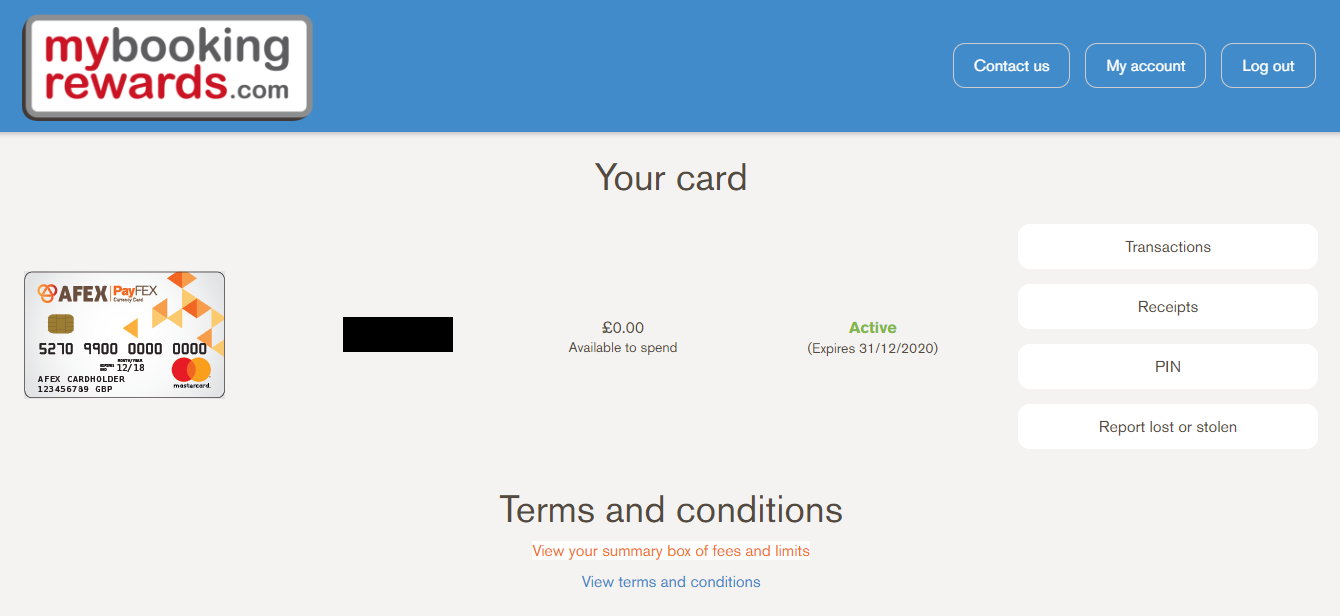 From there, you can click on "Report lost or stolen" button on the right and you will then get the following page: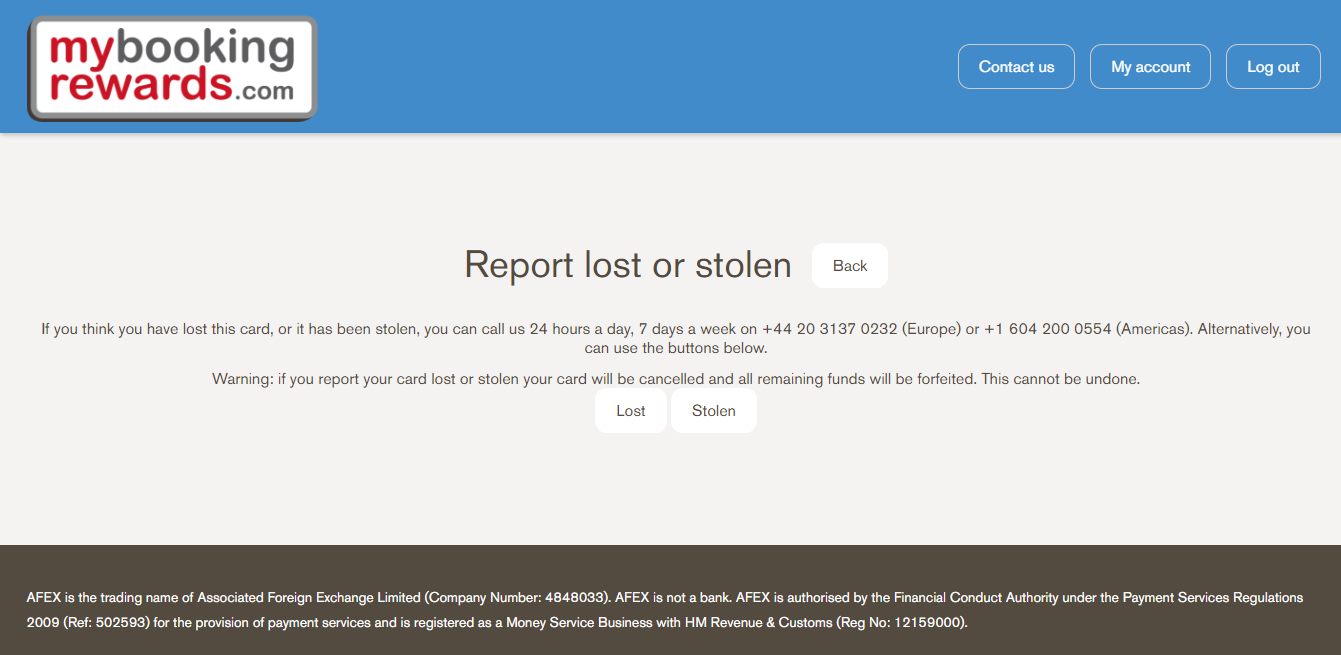 Here is where you choose how you would like to replace your card:
Lost
Stolen
Here you can report your card as either activated, lost or stolen (Please do this BEFORE going through the other steps. If these steps are not available to you, please contact support)
Please note there will be replacement card cost.
If in doubt contact us: support@mybookingrewards.com