So What Is It?
My Global Account allows you to 'pool' your monetary rewards from all your different reward programs into one central account. When you are ready to spend your money– you simply request it to be paid to your choice of spending options available – either Mastercard Card or Amazon.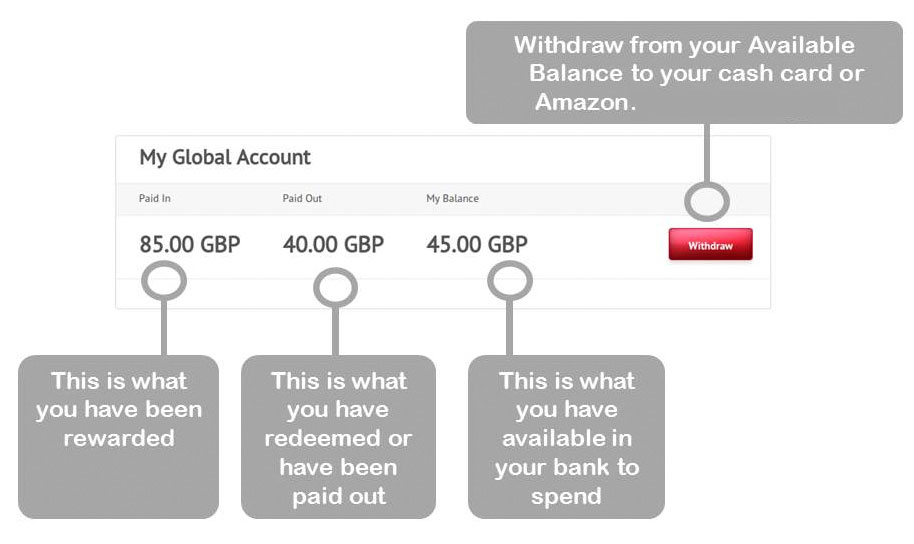 How do I Save Up My Rewards?
It's simple – As you earn your money it will now be automatically transferred into your own My Global Account. Again this helps you manage your 'total' earned monetary rewards in one location rather than have them in lots of different places.
Only the PENDING payments remain in the respective accounts until the rewarding supplier clears them – and we all chase them!!!
So instead of your rewards being paid out on approval of your booking £5 or £10 at a time – they will all be deposited safely into your own My Global Account for you to request and spend at any time, putting you in control.
You will still be notified of the transaction each time you are paid by the respective rewarding supplier.
How do I see What I have?
Click on Dashboard to access your My Global Account 24/7 and check your credits, debits and available balance.
You can still check the amount you have earned or are still owed from your dashboard or by going to each respective reward programme just as before.
How do I see where the money was rewarded from?
Click on your "Paid In" balance to see all your credits and debits to and from your Global Account. It shows you which programme your payment came from and how much you were rewarded.
You can also see all of your payments paid out of your account and how you requested it to be paid. i.e. to your MBR Mastercard card.
So How Can I Get My Money?
You can request payment from your available balance at any time to any of the available pay-out options.
1) From your dashboard click the Red

button under the My Global Account section.
You will be presented with the form below to complete how much you would like to pay out from your global bank and how you would like to receive it.
2) Enter the value you wish to withdraw. This can be all available FUNDS or anything less.
3) Select how you would like to receive your payment e.g. £20 to my Mastercard card
4) Click the "Submit" button at the bottom of the page – your rewards will be sent to you via your chosen method.
If you have any questions please do not hesitate to contact us at support@mybookingrewards.com